In 1971, Gigondas became a Rhone Valley cru! It is young compared to the history of the village near Vaison-la-Romaine, where winegrowing has been documented since Antiquity. Its inhabitants have therefore been refining the art of transforming grapes into a source of joy (in Latin, Jocunditas, Gigondas…) for 2000 years. Here are 7 ideas to celebrate half a century of this wine with the joyful winegrowers.
1- Art and Wine: the Sculpture Path
Contemporary artists have been installing their sculptures around the mediaeval parts at the top of the village of Gigondas each summer since 1994. This "Cheminement des Scuptures" (Sculpture Path) gives us the opportunity to discover a dozen works here and there around the terraces or ramparts, small squares or in gardens.

Colour is given pride of place to celebrate the cru's 50th anniversary in 2021!

When?
From May (until April 2022) at the top of the village of Gigondas (no entry fee)
2- Wine and senses: the Sensory Workshop
When?
From 6 July to 31 August 2021

Free entrance
Gigondas winegrowers have joined forces with Éditions Jean Lenoir to set up an olfactory circuit (Atelier Sensoriel) in the hospices at the top of the village.

The appellation wines' aromatic breadth is discovered through twelve notes in three stages. A space where children can explore their olfactory sense has been created. A space focussing on the terroir and biodiversity gives us another way of seeing the mountains, with an amazing film on the geological formation of the Dentelles de Montmirail mountain chain.

3- Wine and bohemian lifestyle: in a VW Kombi in the vineyards
Take the opportunity to go on a jaunt in an VW Kombi (6 seats) around Gigondas vineyards with Fred Haut, the winegrower from the La Tourade estate, and enjoy tasting wine among the vines (Duration: 90 min, €25/adult, €15/child).

You can also choose to finish your visit with a bucolic picnic, or enjoy the wine tasting to 70s music until nightfall (€60/pers.).

New for 2021: try sophrology in the vines! (€40/pers.)





When?
All year except during harvesting, booking required.
4- Wine and history: guided tour of Gigondas and wine tasting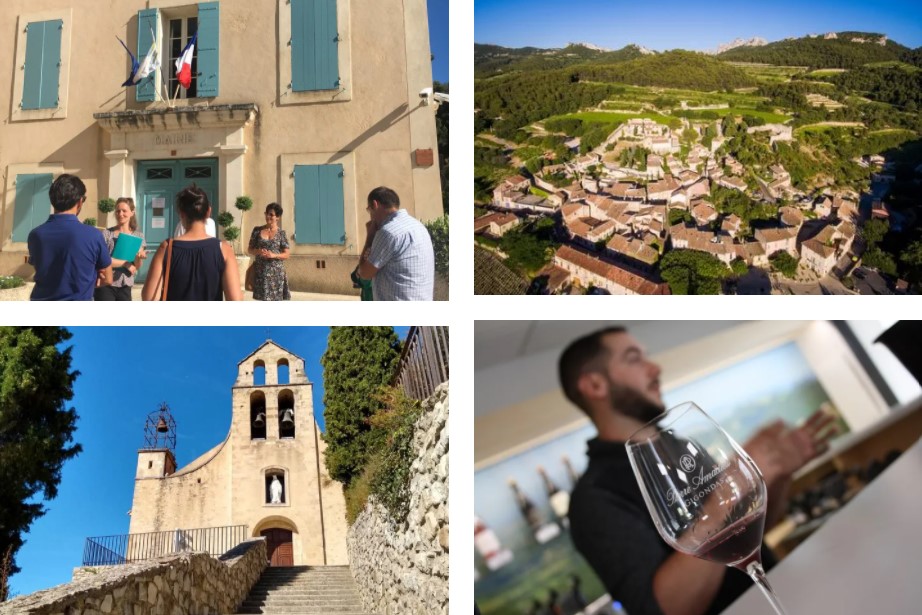 Pratical information
At set dates or upon reservation for a small group
Duration: 1h30
Rate: €10 / pers.
Jeanne, a tour guide from the "La P'tite Vadrouille", will show you around the village where you can soak up its history and finish with a guided wine tasting at the Pierre Amadieu estate. Set dates or by booking for a small group (duration: 90 min, €10/pers).

5- Wine and cycling: a bike ride around Gigondas
A 3-hour bike circuit takes you around Gigondas, Vacqueyras and Beaumes-de-Venise. Can you imagine a more wine tourist-suitable itinerary?

Good to know
Although you may think you need to be pretty sporty to do the circuit, electric bikes can be rented to take you easily over the hills and valleys.
6 – Wine and gastronomy : Gigondas sur table
Practical information
Monday 19 July 2021

Rate: €5€ / pers.


This is the annual event in Gigondas where the wine meets the public and food. It's a real summer festival on the village square, better than you can dream of. You have local products on the menu enchanted by talented chefs and artisans, wine tastings of the various vintages with the winegrowers, and amateurs wandering around, chatting and in raptures at the food and wine pairings proposed, from starters to desserts.

Booking a must!

Near promotion@gigondas-vin.com from 1 June 2021

7 – Wine and photos: a photo exhibition for the 50th anniversary
This is a never-seen-before exhibition that will give you a unique view of the appellation, through photographs, historic documents, accounts, personalities, anecdotes… All set with lights, sound… we'll let the rest be a surprise!

Pratical information:
From 14 July to 31 August 2021 at the Hospices de Gigondas.
Contact

Maison du Gigondas
8 rue du fond du sac
84190 GIGONDAS

Contact :
Deborah Perrin
promotion@gigondas-vin.com
T. +33 (0)4 90 37 79 60


Featured photo: (c) Christophe Grilhé, Inter-Rhône

Coordonnées GPS
44.16337
5.00453