In Bonnieux, in the Luberon, the old train station has been transformed into the new exhibition space for the Blachère Foundation, which has focused on contemporary African art for twenty years.
The Blachère Foundation
The Blachère Foundation was started by Blachère Illuminations. This flagship of French industry was started by founder Jean-Paul Blachère in 1973 in Apt, at the foot of the Luberon. Since then, the company has designed and made lighting and light installations for towns and cities around the world.

The showroom is open exceptionally in December for visits, at the time when the light installations can be seen in all their glory!
Jean-Paul Blachère became passionate about Africa and African art in the early 2000s. So much so that he created a foundation in 2003 with the aim of encouraging and highlighting the contemporary art scene on this continent. A year later the Blachère Foundation art centre was inaugurated in Apt, on the Les Bourguignons industrial estate where Blachère Illuminations already had its huge hangars and offices.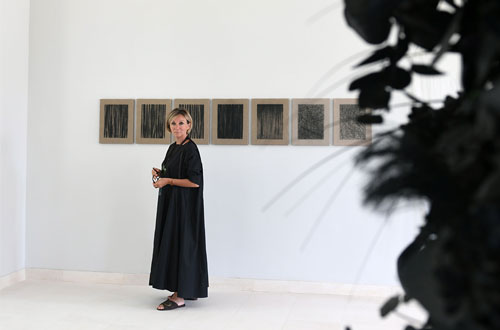 20 years later: Bonnieux train station
At the end of the 19th century, during the heyday of the railways which transported passengers and merchandise all over France, Bonnieux train station was a picturesque stage on the route that connected Cavaillon – and Avignon beyond – to Apt and the Alpes de Haute Provence. Although the station had not seen any passengers for decades, cyclists would pass by there on the Calavon cycle path that follows the old railway tracks (the Luberon section of the Méditerranée à Vélo cycle route).
Today the abandoned station finds a new lease of life at the instigation of Jean-Paul Blachère's daughter Christine, who decided to move the Foundation there in summer 2023.

The spaces are organised into the art centre, the bookshop and African crafts shop, and live-in artists' studios for artists-in-residence.
Chimères, the 2023 exhibition
The inaugural exhibition, "Chimères" (Chimeras), is one that must be seen before it closes on 18 November. It brings together 24 artists from all over Africa and its diaspora.

As you might imagine from its name, "Chimeras", stems from exploring the limits between what is real and the imagination, immersing the visitor in a world full of hybrid creatures with metaphoric accents as they visit the spaces laid out over two floors.
The African crafts shop that we loved in Apt has also been moved to the site. It presents the host of diverse creations by artisans and designers from the sub-Saharan continent, and always with fair trade in mind.
Practical information
The Blachère Foundation
Centre d'Art – Gare de Bonnieux
121 chemin de Coucourdon,
Pl. de la Gare, 84480 Bonnieux

From Monday to Saturday all year long
From 10:00 to 12:30 and 14:00 to 18:00 (until 19:00 in July and August)
Joana Danimbe
+33 (0)6 50 37 15 73
Justine Bernardoni
+33 (0)4 32 52 06 15
fondation@blachere-illuminations.com
©Fondation Blachère