Until January 2024, the vast medieval halls of a palace built by men, for men will be dedicated to the dreamlike architectural creations of a visual artist: Eva Jospin.
Eva Jospin
A graduate of the National School of Fine Arts in Paris, for fifteen years Eva Jospin has been composing forest and architectural landscapes that she develops in different mediums.

Winner of the Academy of Fine Arts Prize in 2015 and resident of the Villa Medici in Rome in 2017, she has already exhibited her works in the most important museums in the world.

This year, in the Popes' Palace she finds a setting to the scale of her works of cardboard and thread, with mineral and plant inspirations.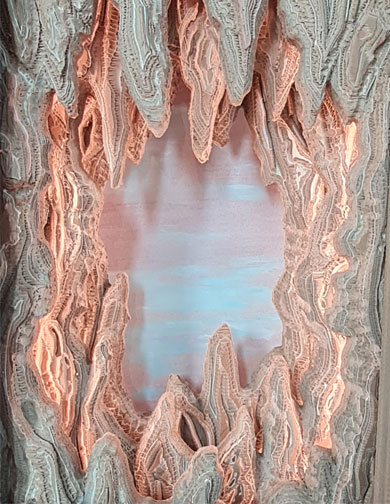 Palazzo
Throughout the visit to the Palace, you can find her works spread through different spaces, playing each hour and each season with the changing light that passes through the large stained glass windows.

Three monumental sculptures, mainly made of cardboard, have thus taken their place under the vault of the Grand Chapel.

The sculpture Côté Cour Côté Jardin (Courtyard Side Garden Side), whose title evokes a theatre scene, reveals its two sides. In the classical repertoire, there are many theatrical or lyrical works whose action is situated between these two spaces.
On one side, the palace, the square, symbol of the city and of the law. On the other, the forest, the underground worlds where mystery and magical characters reign.
The work Nymphées (Nymphaea) takes its name from the majestic fountains of ancient Rome and invites visitors to cross its two arches at the centre of the chapel, playing with perspectives, scales and light.

Finally, Cénotaphe (Cenotaph), a monument in memory of the deceased, sculpted in a style borrowing from that of the capricci of the 18th century, stands with its columns covered with lianas chiselled like the veins of a plant.
Under the formerly starry ceiling of the Grand Tinel, the imposing banquet hall, three strips of embroidery ten metres long, from the Chambre de Soie (Silk Chamber) work, are displayed like the large hangings that adorned the halls of the Palace during the time of the popes. Plant and mineral motifs intertwine in these immense tapestries whose colours seem to have been designed to blend into the walls that support them.

You will find even more works in the halls of the Gothic palace, but we won't reveal everything!

Those who love these creations will be able to complete their visit by continuing to the Lambert Collection, which in a very different setting, but underlining the dreamlike work of the artist, contains several works that echo those displayed in the Palace.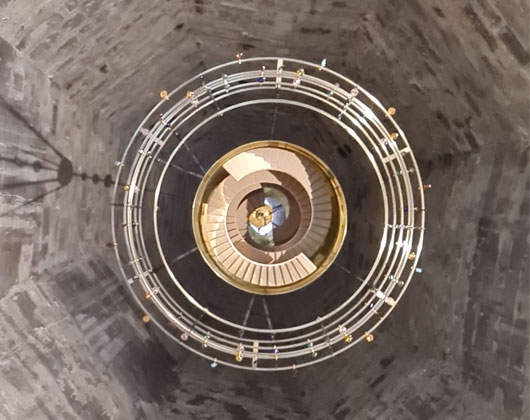 Practical Information
Palace of the Popes
84000 Avignon
T. + 33 (0)4 32 74 32 74


From the 30th of June 2023 to the 7th of January 2024
Guided tours on Saturdays and Sundays at 15:30, by reservation.
Palace of the Popes (including the exhibition): €12
Guided tour: €16,5


Press contact
Laureline LUCAS
T.+33(0)4 32 74 36 56
l.lucas@avignon-tourisme.com
©V.Gillet ©L.Vasconi