In this villa on the banks of the Sorgue, the works of renowned artists and emerging talents in optical and kinetic arts play with light from the basement to the attic and from the river to the garden. It's beautiful, fun – and free!
Villa Datris
For Danièle Marcovici and Tristan Fourtine (Da-Tris!), it was love at first sight in l'Isle-sur-la-Sorgue, a small Provençal village intertwined in the canals of the Sorgue and which for 40 years has lived to the rhythm of flea markets and antique fairs for which it is still renowned.

They founded their project in 2010, with the purchase of a beautiful villa on the riverbank, on the very alley where merchants unpack their finds each Sunday. The villa would become an art centre, fully dedicated to contemporary sculpture – a common passion of Danièle and Tristan – open from spring to autumn for thematic exhibitions renewed each year.

However, the founders of Villa Datris also envisaged it as a patronage since its opening in 2011: access would be free and open to all, with rich and abundant activities throughout the summer. A true space to live!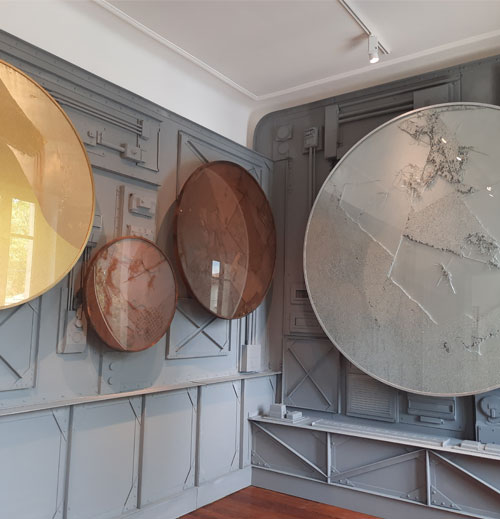 Movement and Light #2
After "Touching Earth, the art of ceramic sculpture" in 2022, this summer Villa Datris offers a new exploration of kinetic and optical arts, following on from the 2012 edition which was such a great success.

The 2023 exhibition this time brings together around sixty artists whose works reflect their fascination with movement and light. Some were exhibited 11 years ago through different works, and others are making their debut at Villa Datris.

We will happily find pioneers of abstraction such as Dan Flavin, François Morellet and Jenny Holzer; those of kinetic art such as Alexander Calder, Jean Tinguely; and optical art such as Victor Vasarely and Jesus Rafael Soto;
but we will also marvel at the revival of these movements born during the 30 Glorieuses through the often playful and poetic works of an inspiring young generation.

All the rooms, from the basement to the upper floors, as well as the garden, the river and even the exterior of the elevator shaft are specially adorned this year by Marina Apollonio, standing out with a scintillating, hypnotic, bright presence. It's beautiful and fun, and certainly for all ages
Practical information
Villa Datris
7 Av. des Quatre Otages
84800 L'Isle-sur-la-Sorgue


Open from the 19th of May to the 1st of November. From 11am to 1pm (10 am in July & August) and from 2pm to 6pm (7pm in July & August)
Free admission
Guided tours, creative workshops for young people, teenagers and adults, conferences throughout the exhibition.

Press contact
Virginie Duval
virginie.duval@maison-message.fr
©B. Michau – ©M. Ripert