The Domaine des Cabanes des Grands Cépages opened in the heart of the famous Châteauneuf-du-Pape wine region in 2017. It offers visitors the chance to experience the joy of being surrounded by nature, beside the water and amongst grapevines, in their beautiful cabins…

Passionate about nature and authenticity, and entrepreneurs at heart, Gaspard de Moustier and Emmanuel de La Bédoyère have made their dreams a reality: creating eco-homes in France in the form of unusual cabins, deeply rooted in the local area, promoting their ambitious and responsible approach to eco-tourism.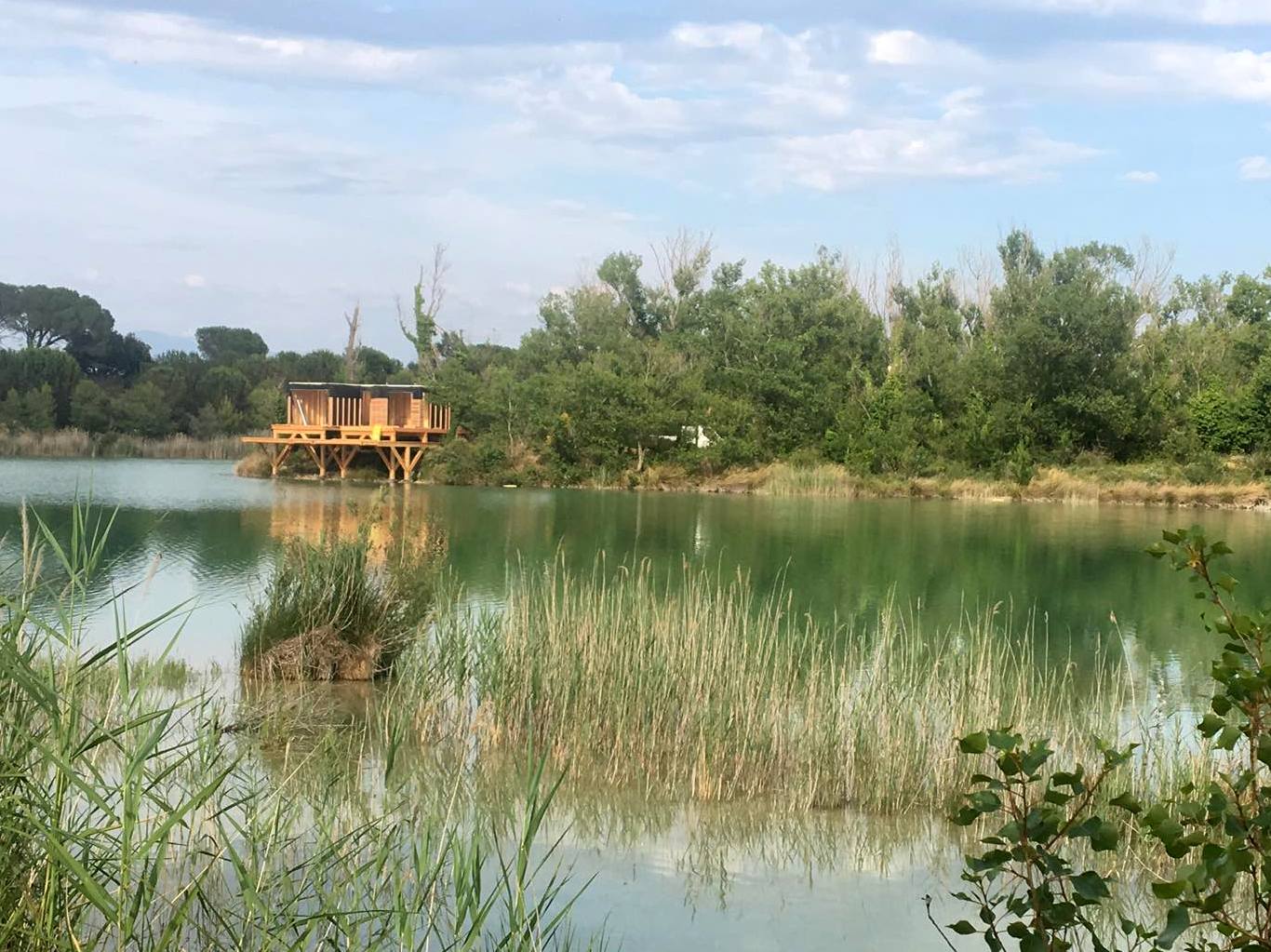 Did you know?
Their promise: to offer an immersive experience at the heart of a natural environment and continuously amaze their guests!
Gaspard and Emmanuel chose the vineyards of Châteauneuf-du-Pape in Vaucluse as the location for their little piece of paradise. In the heart of this magical and authentic environment, the Cabanes des Grands Cépages reveals its brand-new, unusual and innovative accommodation: wooden cabins which are buried, floating or raised on stilts, looking out over the turquoise waters of the lake. Designed to integrate perfectly into their environment, these cabins have large openings which allow the sun to stream in and the summer breeze to float through, so that guests feel fully immersed in their surroundings.
They have luxury facilities and some are even equipped with 100% eco-responsible private Nordic baths on their terrace.
Deeply rooted in the local area, the Domaine des Grand Cépages has joined up with local partners to offer personalised experiences, such as exploring the wines of the Châteauneuf-du-Pape, meetings wine-growers, bike rides, walks and more. Dinner and aperitif baskets showcasing the very best of local produce can be delivered to the foot of the cabin (or on the bank).
Practical Information
To add a touch of romance to your stay, just ask and we'll scatter rose petals or put a bouquet of fresh flowers in your cabin.

Whether you're travelling as a couple, with family or with friends, the Cabanes des Grands Cépages guarantees an escape like no other which will live up to your wildest dreams. They are also able to host seminars or team building sessions which are truly out of the ordinary.