Here's some good news for people who love exploring the countryside or climbing the slopes by electric bicycle – Vaucluse now boasts 13 charging stations and 150 Fast Chargers spread across the region, at Tourist Offices and member organisations of the Accueil Vélo (bicycle-friendly) network.
While today's Bosch batteries (PowerPack, PowerTube, DualBattery) are long-lasting enough to power most e-Bike rides, it's comforting to know that you can easily recharge your bike when you're on the road or having to tackle a lot of uphill climbs – we all know that Vaucluse abounds in hills and tempting long-distance cycle routes!
So it made sense for battery manufacturer Bosch and Vaucluse Provence Attractivité to team up via the Provence by Bike initiative to roll out charging stations and Fast Chargers throughout the Vaucluse region. It's now the best e-Bike recharging network to be found in the South of France!
Power Stations :
Each Power Station offers secure lockers for 6 Bosch batteries to be charged at one time.
Cyclists remove their battery and put it in one of the charging station lockers. As with any locker, you keep the key and head off to enjoy lunch or a bit of local sightseeing while your battery recharges (allow half an hour per bar, depending on the battery).
There are 13 Power Stations in Vaucluse – their GPS locations are shown on the www.provence-cycling.com website, and they're signposted with e-Bike flags.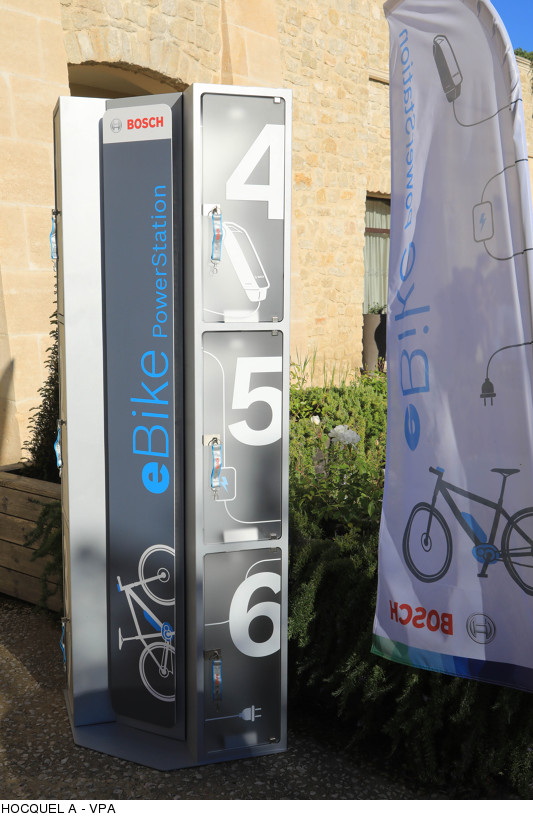 Fast Chargers :
Nearly 50 locations across Vaucluse – including Tourist Offices, bike hire companies, vineyards, museums, restaurants, hotels and cafés – can now give cyclists access to one of these fast, lightweight chargers.
Picture a fast charger available in a Tourist Office: a cyclist entrusts their battery to a member of staff, who charges it up for them while they go off to see the sights. After enjoying a drink under the shade of some plane trees, they return – rested and refreshed – to fetch the battery and set off again. (Be sure to check opening times!)


Did you know?

These chargers take 1 – 2 hours to get a PowerPack 500 battery to 50% of its capacity, 3 hours for a complete charge, and 2 – 4 hours for ½ charge of a DualBattery 1000.