Surfing at Wave Island, an e-bike ride with great views, the Bizarrium exhibition at the Naturoptère… tells you how to get teens away from their bed/screen combo!
Surfing at Wave Island
Wave Island is the 100% boardsports theme park in Provence!
32 water-based attractions and activities are provided for the whole family, with an offer that suits teenagers looking for thrills perfectly. Apart from the toboggans and giant tubes for rafting alone or with someone, you can take on Da Wave, the biggest artificial wave in the world, which can now be adjusted to suit all levels. 10-minute introductions are offered to riders who want to try out the wave, and 30-minute sessions can be booked in advance which enable you to try flowboarding bodyboarding with the park's qualified instructors.
Good to know
3-day courses ("my-surf" sessions) are organised during the year (the next one is from 25 to 28 May 2022).

Find out more :
www.waveisland.fr
Explore on an electric mountain-bike or scooter
Practical information
Beginners and advanced.
From 1.40m.

€30 /pers.

Véloz, at Séguret
https://veloz.fr
Everyone can go on a mountain-biking adventure in the Dentelles de Montmirail! Teenagers won't be moaning when it comes to taking an electric bike out with a "boost" mode to help with climbs, and you can give one of them a GPS to follow the path of the circuit Jean-Pierre from Véloz will have sent them in advance.
There are therefore lots of ways to discover the wonderful natural spaces and breath-taking views of the Vaucluse without dragging your feet during a family hike.
The Via Ferrata of Cavaillon
This vertical route along the cliff of the Saint Jacques Hill has one distinguishing feature : you can access it directly from the town centre of Cavaillon. The route is made up of two parts: the « via natura » (open to people above 1.30m), accessible to all, and the « via souterrata » (people above 1.50m), for the most athletic. The views from Mont Ventoux as far as the Alpilles are stunning, and orientation boards on the terraces are scattered along the path with information about the fauna, flora and local heritage.
Good to know
Access is free and equipment (harness, helmet and insurance system) can be reserved at AB Cycles Outdoor or Cyclix (closed on Sundays).
Bizarrium exhibition at Naturoptère
Practical information
Until end of August 2022.
Rates for 5-17 years old: €7.
Special family rates.

Le Naturoptère,
at Sérignan-du-Comtat
www.naturoptere.fr
Surfing on teens taste for dystopia and the bizarre, the fascinating Naturoptère, at Sérignan-du-Comtat near Orange, is putting on "Bizarrium, Monstre-moi qui tu es" (Bizarrium, Show us who you are). A first part of the exhibition, which is both visual and fun, looks at monsters in mythology, from Scotland to China, enabling us to become aware of their place in our collective imagination. A second part displays malformed stuffed animals or bizarre insects, mostly from university science department collections for observation requirements. Final, a philosopher causes us to think about what makes us decide what is beautiful and what is bizarre. It is a wonderful visual and philosophical path to follow!

Also take advantage of visiting Naturoptère, its gardens, spider exhibition, miniatures garden… and watch flash presentations on multiples themes which take place all day with slots every 15 minutes. There is also a calendar of discovery workshops all year round.
Canoeing on the Rhone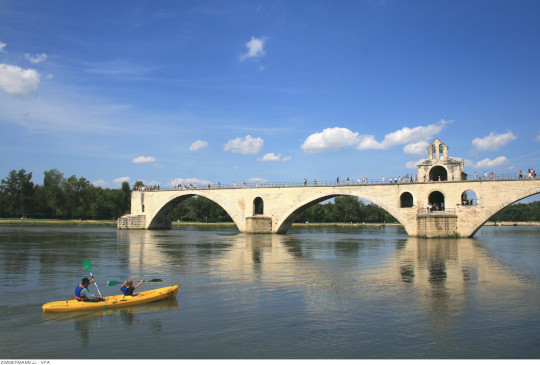 Practical information
For the whole family.
Descent of the Rhône river – rate for above 13 year-olds: €22 daytime, €28 € for the evening excursion.

Canoé Vaucluse, in Avignon
www.canoe-vaucluse.fr
We can never say how much changing perspective is a good idea! By going out on the Rhone, you can discover Avignon in a completely different way. You can canoe down the river or do stand-up paddle, including giant paddles for up to 7 people, and either splash around the Avignon bridge or go 8 km downstream to explore what nature has to offer and the historic banks. Those who like a bit of adventure will enjoy taking a trip downstream at night to discover night life on the river banks and enjoy the city lights.
Photos © Xavier Comméat, Emmanuel Morel, Hélène Abry, Obrien, Zimmerman, Lepeltier, Veloz