This brand-new hotel on the elegant rue Joseph Vernet, in the chic neighbourhoods in the centre of Avignon, promises to be a new breath of air for the city's hospitality business.
Hôtel de Cambis
41 high-standard rooms, spread across the floors of a classic mansion, have been designed by artist-interior designer Julie Gauthron, who graduated from the Arts Appliqués school of design in Paris.

She draws her inspiration from the art deco of the roaring twenties, design objects, refined materials and soft fabrics, but also the world of wine. Because that is the theme running through the establishment's spirit, in reference to the wine bar that occupies the ground floor of the establishment, and soon the terrace in front of the building.
A personality of its own
First of all the colours used suggest those of the vine or wine, with shades of Burgundy, powder pink or green, green-gold, bronzed green or Mazarine blue. They combine and lift each other, creating a unique ambiance which is both cosy and contemporary.

The suites and rooms have evocative names such as Millésime, Premier Cru, or Grand Cru, according to their category. The floors have tiles or hardwood flooring, providing harmonies of colours that vary as the rooms and floors are visited, yet the whole goes together perfectly with great refinement.
Getting the day off to a good start
Breakfast is served in a large bright lounge upstairs, with a hot and cold buffet which showcases local products.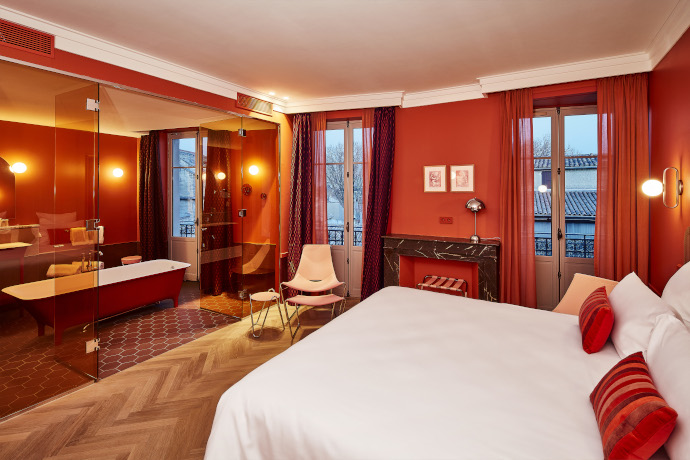 The soul of the Hôtel de Cambis can be summed up as having a lot of elegance and an assumed character, and plays another master card: it is located in the city centre and not far from the main train station.
Practical information
Hôtel de Cambis
89 rue Joseph Vernet
84000 Avignon
www.hoteldecambis.com
T. +33 (0)4 90 14 62 73
Price
From €130 /night
Breakfast : €16

Manager
Deborah Volle
T. +33 (0)7 86 74 63 91
direction@hoteldecambis.com

Media
Arnaud Houitte
T. +33(0)6 03 12 56 78
arnaudhouitte@14septembre.com