Fans of French-made quality blankets will know the name Brun de Vian-Tiran, the oldest cloth-weaving factory still running in France. For eight generations and over two centuries, the Brun family has been travelling the world in search of the finest wools to weave at its l'Isle sur la Sorgue factory. Now they've opened a new sensorial museum to showcase the wonderful history of their family business.
The museum is called La Filaventure and opened in early July 2018 in a wing of the family's two-hundred-year-old factory along the canals of "the Venice of Provence". Pierre and Jean-Louis Brun – the seventh and eighth generations to helm this business founded in 1808 – wanted to share their passion for exquisite fibres and the rare occupation of "wool-weaver" in an era of industrial production where most fabrics are quickly made, quickly cut, and generally, quickly thrown away.
Guided by the "Filambules"
A series of "Filambules"– dreamlike creatures in wrought iron, suspended 4.5 metres above the ground – guide visitors along. It's a long journey from the search for new wool fibres in the Camargue and as far afield as the Mongolian steppes, to manufacturing the fabric. Excellence is the byword; preserving or reconstituting animal herds and making the occupation economically viable for breeders wherever they are on the planet – it's a whole philosophy.
Did you know?
The four main families of wool-yielding animals are presented: sheep, goats, camels and other, rarer, creatures.
A 360° film projected onto a mohair-thread screen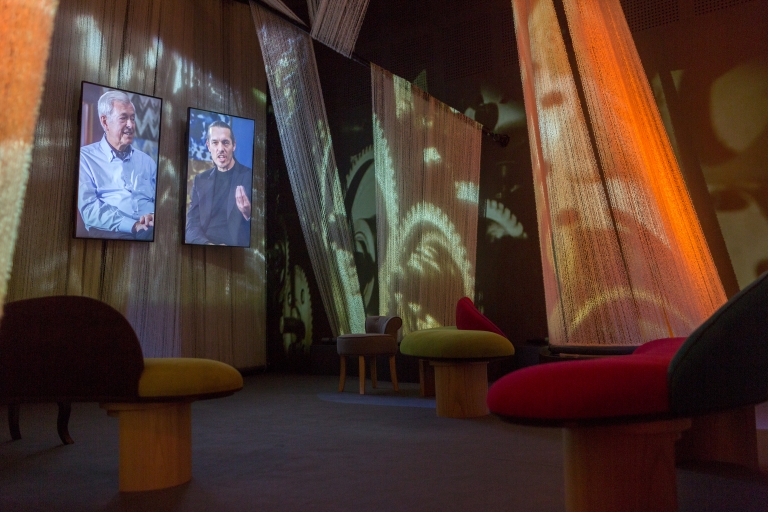 Must-see
La scénographie est surprenante et féerique et l'ouvrage de la prestigieuse société Abaque (L'Aventure Michelin, le Mémorial Charles de Gaulle…) The imaginatively laid-out museum by prestigious designers Abaque – who created L'Aventure Michelin and the Charles de Gaulle Memorial – features enchanting scenography.
Other installations include items from family forebear Emile Brun's globe-trotting trunk, a maze of the 15 stages required to turn a ball of wool into woven fabric, an immersion into the sounds of the factory floor, a chance to operate real manufacturing equipment, and a trail designed for younger children with Edgar the Sheep…
The Boutique
The museum covers the 300m² first floor, while the ground floor is entirely given over to the Brun de Vian-Tiran boutique. There are three separate spaces totalling 160 m². One is dedicated to the home with throws in cashmere, mohair, baby camel and baby llama, one is for bedding, featuring finest quality duvets and blankets, and the third is for wearable fashion and sells the factory's signature shawls. Here you can buy the stylish capsule collections designed by Jean-Louis Brun jointly with France's most elite industrial design school, ENSCI–Les Ateliers Textile Design.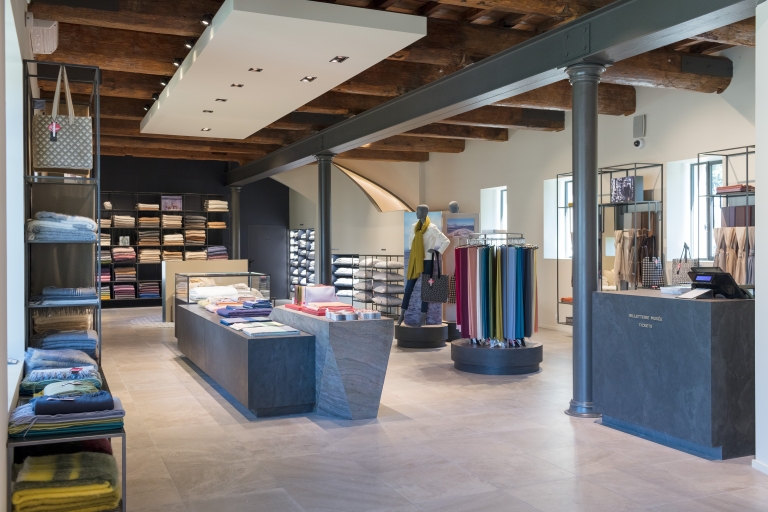 Practical Information
Admission: Full price ticket €7.50

Open year-round except February. Closed Mondays.

Address
La Filaventure-Brun de Vian Tiran
Avenue de la Libération
84800 Isle-sur-la-Sorgue
T. 33 (0)4 28 70 28 00
contact@brundeviantiran.com
www.brundeviantiran.com

Press Contact :
Cristel Petit-Pical
cristel@quaidelapresse.com
GPS Coordinates
5.048297

43.918609