In southern Luberon, a medieval farmhouse comes back to life under the joyful and colourful inspiration of Matali Crasset
The Ferme HI Bride, the latest in the HI Life collection
At the edge of the woods of Villelaure, between the Durance river and the Luberon hills, the tireless entrepreneur Patrick El-Ouarghi has settled down on a farm with the appearance of a large fortified farmhouse, built against a 12th century guard tower. Joyfully designed by architect-designer Matali Crasset, the building, abandoned for 10 years, has incorporated huge bay windows with concrete caps, and has seen its spaces finally flooded with light and its walls splashed with bright colours.

It must be noted that this is not the first collaboration between Patrick El-Ouarghi and Matali Crasset: the first was in 2003 with the HI-hotel in Nice (sea version), followed by the Dar-hi in Tunisia (desert version), and the Hi-Matique in Paris (urban version).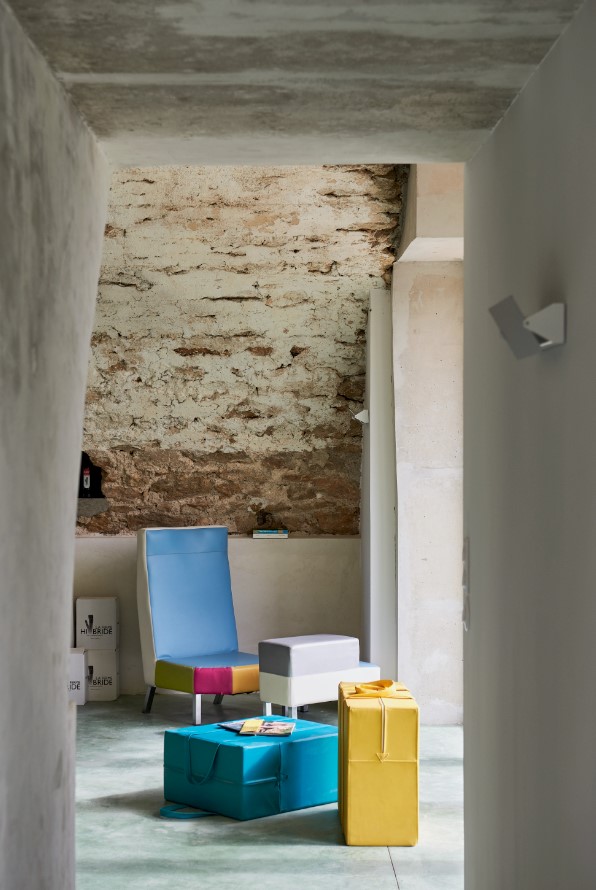 Innovation and ecology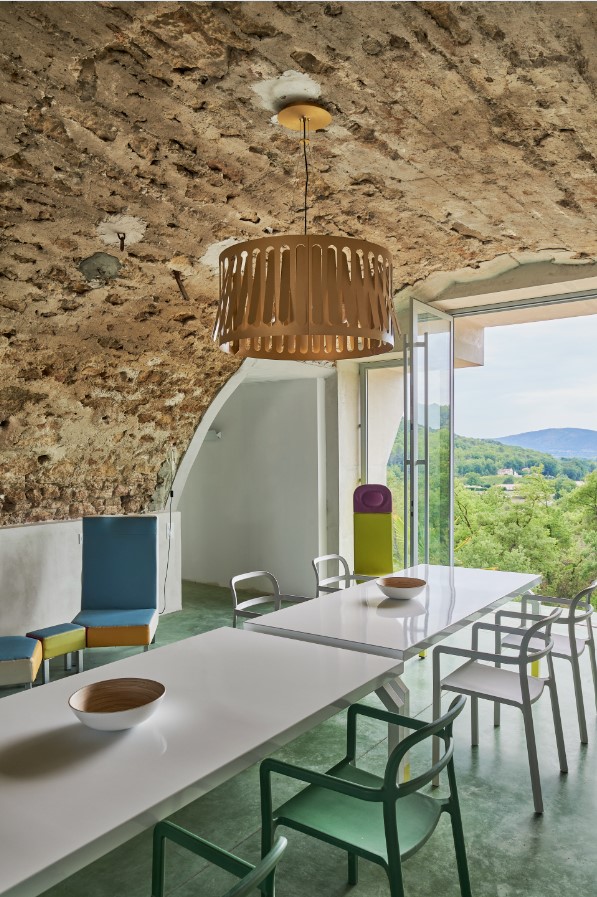 Rates
From €190/night
The contemporary, culture, the environment, body and soul well-being, this is what guides Patrick and his partner Philippe.

For the "countryside" version, here we find some of the furniture designed for the HI-Hotel, left orphaned since the sale of the establishment and here superbly highlighted by the simplicity of the waxed concrete floors and the thick stone walls.

5 guest rooms, 2 studios and 2 houses were converted during 2022. The former agricultural basin has been transformed into an infinity pool, and the barn is being prepared to contain the HAM (Hangar à Manger – dining barn) for the 2023 season, with a friendly farm-inn concept. The keyword here is agritourism, because the farm has well and truly maintained its agricultural vocation and its 20 hectares contain woods, vineyards and olive groves.

There are no shortage of plans, which should take shape soon: living garden and organic vegetable garden, Ayurvedic and yoga themed-stays, and cooking workshops; to complete the process of making it a living, ecological and collective space.
Practical information
La Ferme HI-Bride
La Tour de Ferrier,
Route d'Ansouis
84530 Villelaure
T. +33 (0)9 75 68 59 40
www.lafermehibride.com
                                                                                Copyright: A. Lanneretonne