This beautiful, eco-conscious hotel surrounded by vineyards to the north of Orange has just opened its own organic spa.
THE CHÂTEAU
This pretty turreted castle built in 1555 served as a hunting lodge for Henry II and Diane de Poitiers during their visits to Uchaux, just north of Orange. A few years ago it was bought by Didier Pérréol, the founder of Ekibio – a pioneer in France's organic food sector for over three decades.
FROM CHÂTEAU TO ECO-FRIENDLY HOTEL
Pérréol set about transforming the Château into a "green" hotel, without skimping on comfort or taking away from the elegance of the handsome building. With everything designed for minimal environmental impact, the refurbishment includes hemp insulation, limewash paint, solar energy-heated domestic hot water, vertical geothermal energy, and exclusively local, ecological materials, as well as organic cotton and linen fabrics. The hotel is laid out according to Feng Shui principles to ensure a vibrant flow of energy.

Did you know?
The Château de Massillan also has its own gardens.
THE RESTAURANT
The Chef draws his inspiration for the gastronomic restaurant from nature and seasonal produce. Inspiration is found all around him, with 4,000 m² of « Ecocert »-certified kitchen gardens at his fingertips!
Each month, both him and the gardener agree on a new ingredient to place in the spotlight and build menus around. The Chef is also happy to offer cookery workshops in his kitchens, upon request.
NEW: THE SPA
Newly opened in Spring 2019 is the 600 m² spa, set up in partnership with French organic and vegan cosmetics brand BioVive. This new environmentally-committed brand uses only natural ingredients, harnessing the proven regenerative powers of the fruit and buds of fig, peach, cherry and other fruit trees.
Château de Massillan's spa is housed on two floors of a brand new building linked to the historic castle by a footbridge, and offers all the latest spa facilities.
The indoor swimming pool, behind large bay windows, features various massaging effects and a counter-current system; a multi-sensory shower provides three colour/sound/fragrance experiences to suit your mood; there are two saunas – one of them a herbal sauna with outdoor views – a steam room, a chillout area/tea room, a roof terrace with views of the castle and vineyards (this is where yoga and tai chi classes are held), three single treatment cabins and two doubles – one of which boasts a private relaxation area: picture a king-sized bed with soft pillows and duvets, facing a huge window with views of the trees on the estate.
Last but not least there's a weights room – which also opens onto the gardens – fitted with wooden equipment by the eco-friendly brand WaterRower.

In keeping with the Château's green philosophy, everything here is designed to minimise the spa's environmental impact. The pool water is heated with geothermal energy, then recycled for watering the gardens. Reusable or biodegradable materials are used for the treatments and staff uniforms, and the spa partners with French eco-friendly brands.

PRACTICAL INFORMATION
32 bedrooms, in three settings: the historic château, the Bastide farmhouse, and the contemporary Trianon building.
Rates: bedrooms from €140, suites from €290 (excluding breakfast, 19 €/person for buffet breakfast)
Cookery workshops for 12 to 18 participants: €80/pers. including meal (excluding drinks)
Hotel and Spa closed from 17 February to 8 March 2020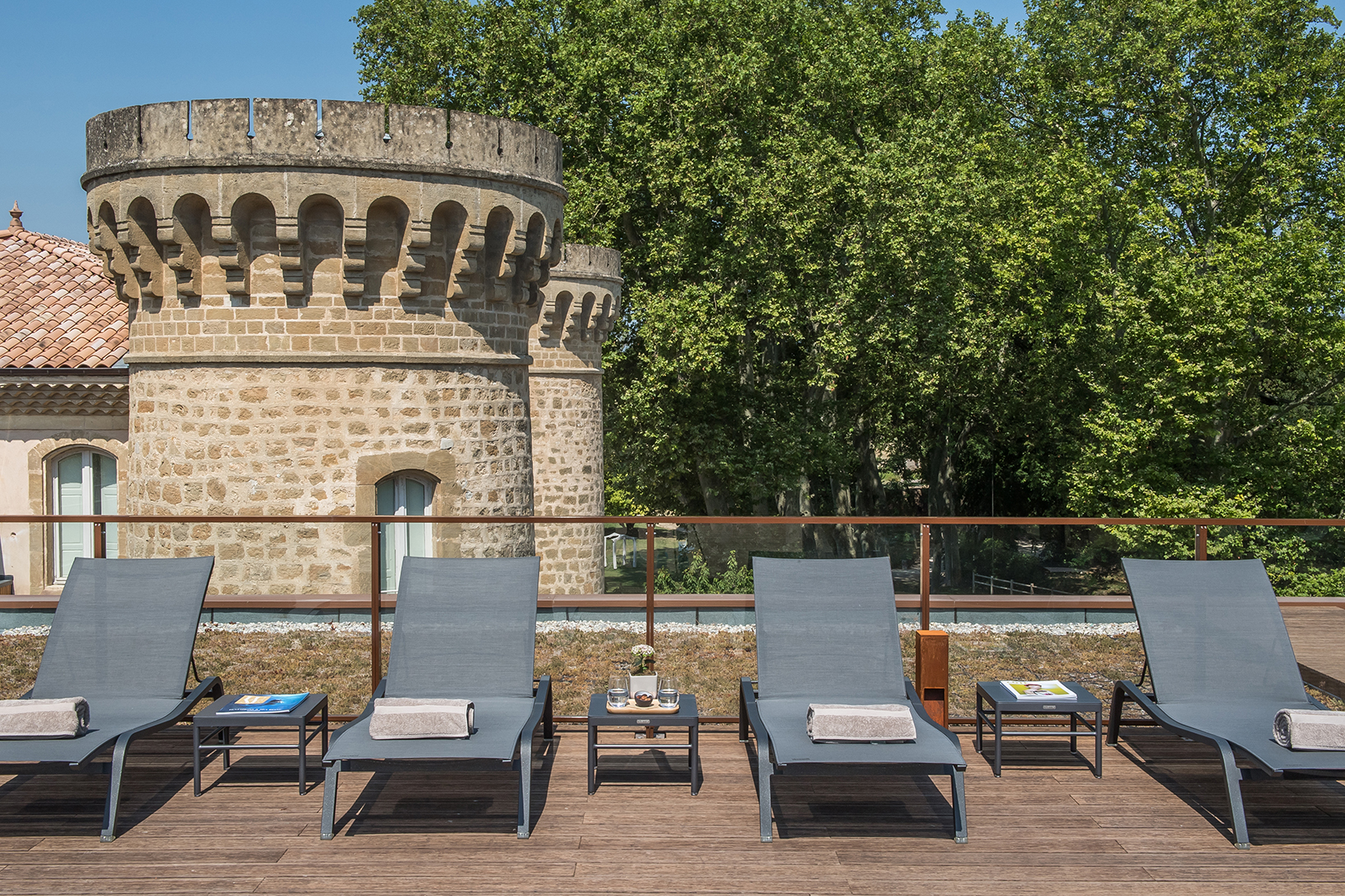 Rates:
The Spa is open to hotel guests – Spa access: €30/2 hours
Access to spa for non-resident customers: 2 hours free with one spa treatment (minimum €95/pers.)
Lunch & Spa deal, open to non-guests: €55/pers for lunch + 2 hours' spa access, available Monday to Friday.